Visakam Chandrashtama 2023
A Chandrashtama day is one on which the Moon transits through the eighth house from your Moon sign, according to Vedic astrology. Chandra (the moon) and Ashta are the basis of the word "Chandrashtama" (eight). Because it takes the Lunar two and a half days to change signs, the dwellers of each moon sign refer to this time as Chandrashtama. Chandrashtama days are often seen as unfavourable for beginning new ventures.
What is the Significance of Vishaka Nakshatra?
Vishaka is one of the most important nakshatras in Indian astrology. It is considered to be a very auspicious nakshatra and is said to bring good luck and fortune to those who are born under it. Vishaka is also known as the nakshatra of wealth and prosperity. It is believed that if a person is born under this nakshatra, they will be blessed with a life of abundance and luxury. Vishaka is also said to be the nakshatra of knowledge and wisdom. It is believed that those who are born under this nakshatra will be blessed with intelligence and understanding.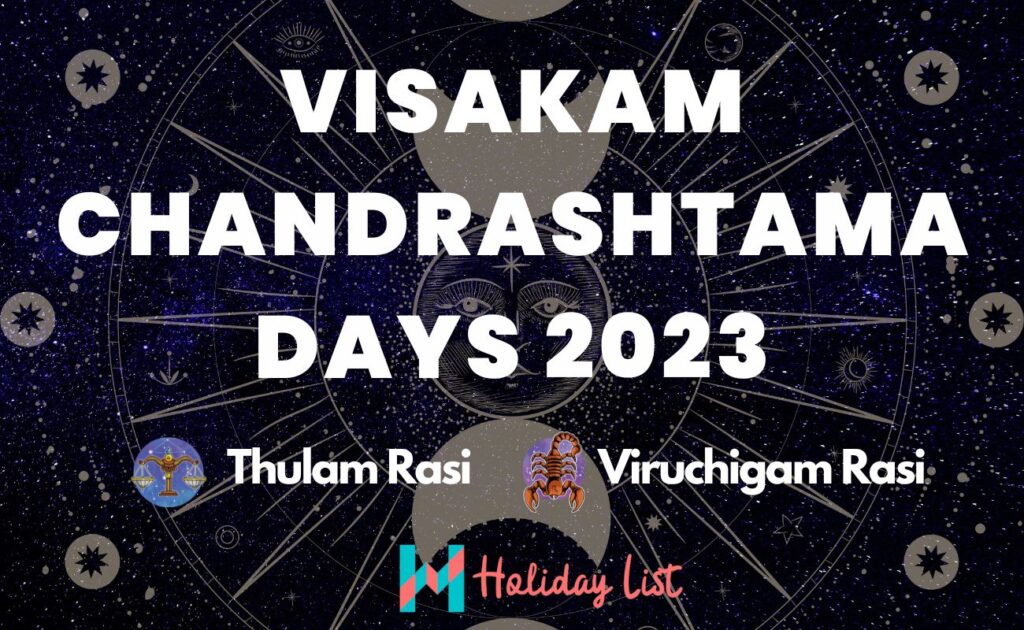 Chandrashtama Days for Visakam January 2023
Visakam Chandrashtama in January 2023
Mon
Tue
Wed
Thu
Fri
Sat
Sun
01
02
03
04
05
06
07
08
09
10
11
12
13
14
15
16
17
18
19
20
21
22
23
24
25
26
27
28
29
30
31
January Chandrashtama for Thulam and Viruchigam Rasi 2023
Chandrashtama Days for Visakam Natchathiram on 4.1.2023 (Wednesday)
Chandrashtama Days for Visakam Natchathiram on 5.1.2023 (Thursday)
Chandrashtama Days for Visakam Natchathiram on 31.1.2023 (Tuesday)
Chandrashtama Days for Visakam February 2023
Visakam Chandrashtama in February 2023
Mon
Tue
Wed
Thu
Fri
Sat
Sun
01
02
03
04
05
06
07
08
09
10
11
12
13
14
15
16
17
18
19
20
21
22
23
24
25
26
27
28
February Chandrashtama for Thulam and Viruchigam Rasi 2023
Chandrashtama Days for Visakam Natchathiram on 28.2.2023 (Tuesday)
Chandrashtama Days for Visakam March 2023
Visakam Chandrashtama in March 2023
Mon
Tue
Wed
Thu
Fri
Sat
Sun
01
02
03
04
05
06
07
08
09
10
11
12
13
14
15
16
17
18
19
20
21
22
23
24
25
26
27
28
29
30
31
March Chandrashtama for Thulam and Viruchigam Rasi 2023
Chandrashtama Days for Visakam Natchathiram on 1.3.2023 (Wednesday)
Chandrashtama Days for Visakam Natchathiram on 27.3.2023 (Monday)
Chandrashtama Days for Visakam Natchathiram on 28.3.2023 (Tuesday)
Chandrashtama Days for Visakam April 2023
Visakam Chandrashtama in April 2023
Mon
Tue
Wed
Thu
Fri
Sat
Sun
01
02
03
04
05
06
07
08
09
10
11
12
13
14
15
16
17
18
19
20
21
22
23
24
25
26
27
28
29
30
April Chandrashtama for Thulam and Viruchigam Rasi 2023
Chandrashtama Days for Visakam Natchathiram on 24.4.2023 (Monday)
Chandrashtama Days for Visakam May 2023
Visakam Chandrashtama in May 2023
Mon
Tue
Wed
Thu
Fri
Sat
Sun
01
02
03
04
05
06
07
08
09
10
11
12
13
14
15
16
17
18
19
20
21
22
23
24
25
26
27
28
29
30
31
May Chandrashtama for Thulam and Viruchigam Rasi 2023
Chandrashtama Days for Visakam Natchathiram on 22.5.2023 (Monday)
Chandrashtama Days for Visakam June 2023
Visakam Chandrashtama in June 2023
Mon
Tue
Wed
Thu
Fri
Sat
Sun
01
02
03
04
05
06
07
08
09
10
11
12
13
14
15
16
17
18
19
20
21
22
23
24
25
26
27
28
29
30
June Chandrashtama for Thulam and Viruchigam Rasi 2023
Chandrashtama Days for Visakam Natchathiram on 17.6.2023 (Saturday)
Chandrashtama Days for Visakam Natchathiram on 18.6.2023 (Sunday)
Chandrashtama Days for Visakam July 2023
Visakam Chandrashtama in July 2023
Mon
Tue
Wed
Thu
Fri
Sat
Sun
01
02
03
04
05
06
07
08
09
10
11
12
13
14
15
16
17
18
19
20
21
22
23
24
25
26
27
28
29
30
31
July Chandrashtama for Thulam and Viruchigam Rasi 2023
Chandrashtama Days for Visakam Natchathiram on 15.7.2023 (Saturday)
Chandrashtama Days for Visakam August 2023
Visakam Chandrashtama in August 2023
Mon
Tue
Wed
Thu
Fri
Sat
Sun
01
02
03
04
05
06
07
08
09
10
11
12
13
14
15
16
17
18
19
20
21
22
23
24
25
26
27
28
29
30
31
August Chandrashtama for Thulam and Viruchigam Rasi 2023
Chandrashtama Days for Visakam Natchathiram on 11.8.2023 (Friday)
Chandrashtama Days for Visakam September 2023
Visakam Chandrashtama in September 2023
Mon
Tue
Wed
Thu
Fri
Sat
Sun
01
02
03
04
05
06
07
08
09
10
11
12
13
14
15
16
17
18
19
20
21
22
23
24
25
26
27
28
29
30
September Chandrashtama for Thulam and Viruchigam Rasi 2023
Chandrashtama Days for Visakam Natchathiram on 7.9.2023 (Thursday)
Chandrashtama Days for Visakam Natchathiram on 8.9.2023 (Friday)
Chandrashtama Days for Visakam October 2023
Visakam Chandrashtama in October 2023
Mon
Tue
Wed
Thu
Fri
Sat
Sun
01
02
03
04
05
06
07
08
09
10
11
12
13
14
15
16
17
18
19
20
21
22
23
24
25
26
27
28
29
30
31
October Chandrashtama for Thulam and Viruchigam Rasi 2023
Chandrashtama Days for Visakam Natchathiram on 5.10.2023 (Thursday)
Chandrashtama Days for Visakam Natchathiram on 6.10.2023 (Friday)
Chandrashtama Days for Visakam November 2023
Visakam Chandrashtama in November 2023
Mon
Tue
Wed
Thu
Fri
Sat
Sun
01
02
03
04
05
06
07
08
09
10
11
12
13
14
15
16
17
18
19
20
21
22
23
24
25
26
27
28
29
30
November Chandrashtama for Thulam and Viruchigam Rasi 2023
Chandrashtama Days for Visakam Natchathiram on 1.11.2023 (Wednesday)
Chandrashtama Days for Visakam Natchathiram on 28.11.2023 (Tuesday)
Chandrashtama Days for Visakam Natchathiram on 29.11.2023 (Wednesday)
Chandrashtama Days for Visakam December 2023
Visakam Chandrashtama in December 2023
Mon
Tue
Wed
Thu
Fri
Sat
Sun
01
02
03
04
05
06
07
08
09
10
11
12
13
14
15
16
17
18
19
20
21
22
23
24
25
26
27
28
29
30
31
December Chandrashtama for Thulam and Viruchigam Rasi 2023
Chandrashtama Days for Visakam Natchathiram on 26.12.2023 (Tuesday)
Chandrashtama Days for Visakam Natchathiram on 27.12.2023 (Wednesday)