✓Tamil – English Day and Date Calendar for the year 2022:In Tamil Nadu, it is customary to arrange marriage and other auspicious occasions as per the custom of the Tamil month. However, in Tamil Nadu, many people follow the English calendar system. In order to know the date of the Tamil month similar to the English date, we have provided a list here.
Check here the comparative Tamil Month day and date for the month of January 2022 English Calendar.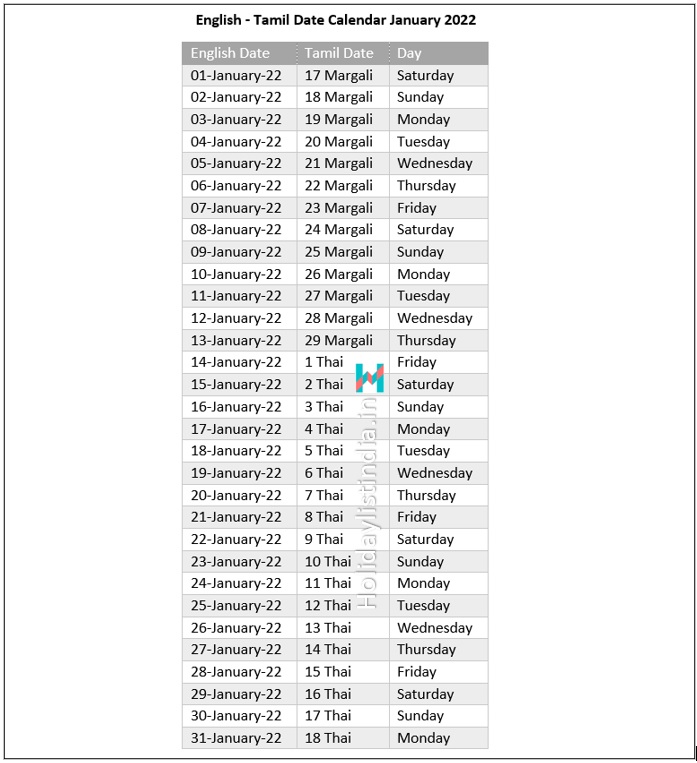 English Tamil January 2022 Calendar
01-January-22 | 17 Margali | Saturday
02-January-22 | 18 Margali | Sunday
03-January-22 | 19 Margali | Monday
04-January-22 | 20 Margali | Tuesday
05-January-22 | 21 Margali | Wednesday
தமிழ்நாட்டில் தமிழ் மாத வழக்கப்படி திருமணம் மற்றும் இதர சுப காரியங்கள் நிச்சயம் செய்வது வழக்கம். எனினும் தமிழ்நாட்டில் ஆங்கில காலண்டர் முறையினை பலரும் பின்பற்றி வருகிறார்கள். ஆங்கில தேத்திற்கு ஒத்த தமிழ் மாத தேதியினை அறிந்து கொள்ளும் பொருட்டு இங்கு பட்டியல் தயாரித்து வழங்கி உள்ளோம்.