The official West Bengal School Holiday List for the year 2022 has been released, providing a comprehensive schedule of all the upcoming holidays for schools in the state. The list includes major holidays like Independence Day, Christmas, and Diwali, along with regional festivals and observances like Rath Yatra and Mahavir Jayanti. The holiday list has been prepared in consultation with the state government and education authorities to ensure that schools have adequate time to plan their academic schedules and make necessary preparations for the upcoming holidays.
West Bengal School Holiday List 2022
The Finance (Audit) Department of the West Bengal Government has recently unveiled a comprehensive list of public holidays for the academic year 2022-2023, applicable to schools, colleges, and universities. The holiday schedule includes dates for Guru Nanak Jayanti on November 8th, 2022, and Christmas Day on December 25th, 2022. The complete holiday list is available for download in PDF format through the provided link. The month of October 2022 has been marked with various holidays, such as Gandhi Jayanti on October 2nd, 2022 (Sunday), Maha Saptami on October 2nd, 2022 (Sunday), Maha Ashtami on October 3rd, 2022 (Monday), Maha Navami on October 4th, 2022 (Tuesday), Vijaya Dashami on October 5th, 2022 (Wednesday), Lakshmi Puja on October 9th, 2022 (Sunday), and Diwali on October 25th, 2022 (Tuesday).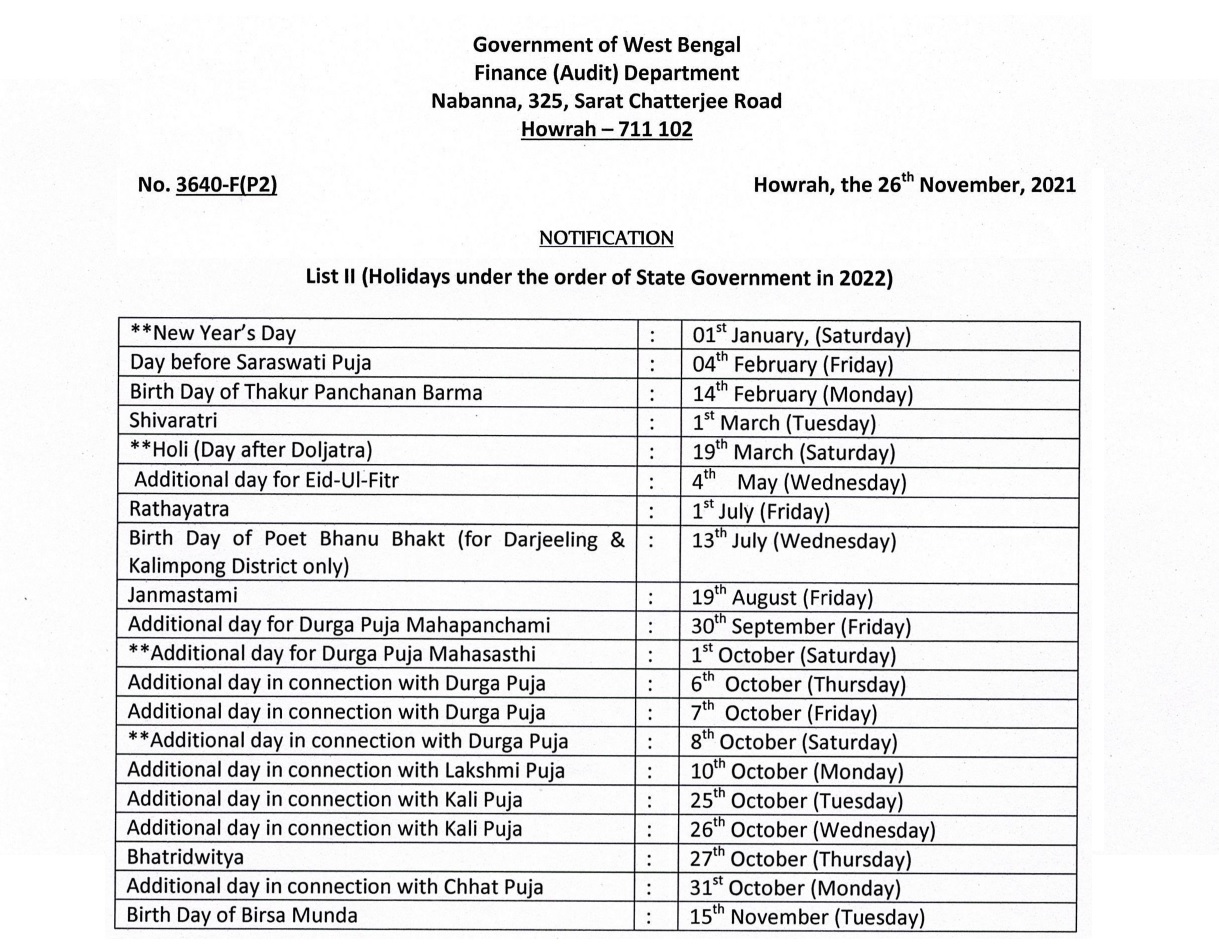 The State Government of West Bengal notified a list under Negotiable Instrument Act for the year 2022. Click to view the holiday list in PDF format.
The Kendriya Vidyalaya Sangathan (KVS) declared the list of holidays for the current academic year 2022-23 to be observed in all KVS schools in West Bengal.
Holiday List in January 2022
12 January 2022 (Wednesday) – Swami Vivekananda Jayanti
23 January 2022 (Sunday) – Netaji Subhas Chandra Bose Jayanti
26 January 2022 (Wednesday) – Republic Day
Holiday List in February 2022
Holiday List in March 2022
18 March 2022 (Friday) – Dolyatra
Holiday List in April 2022
14 April 2022 (Thursday) – Dr. Ambedkar Jayanti
15 April 2022 (Friday) – Good Friday
15 April 2022 (Friday) – Bengali New Year
Holiday List in May 2022
01 May 2022 (Sunday) – May Day
03 May 2022 (Tuesday) – Id-ul-Fitr
09 May 2022 (Monday) – Guru Rabindranath Jayanti
16 May 2022 (Monday) – Budha Purnima
Holiday List in June 2022
Holiday List in July 2022
Holiday List in August 2022
Holiday List in September 2022
25 September 2022 (Sunday) – Mahalaya Amavasye
Holiday List in October 2022
02 October 2022 (Sunday) – Gandhi Jayanti
02 October 2022 (Sunday) – Maha Saptami
03 October 2022 (Monday) – Maha Ashtami
04 October 2022 (Tuesday) – Maha Navami
05 October 2022 (Wednesday) – Vijaya Dashami
09 October 2022 (Sunday) – Lakshmi Puja
25 October 2022 (Tuesday) – Diwali
Holiday List in November 2022
08 November 2022 (Tuesday) – Guru Nanak Jayanti
Holiday List in December 2022