UCO Bank Holiday List 2022 PDF Download
UCO Bank State-wise Holiday List 2021 PDF Download
UCO Bank closed all Sundays and Holidays under the Negotiable Instrument Act.
Holidays falling on Sundays are mentioned for the Sunday banking branches.
All Second Saturdays and 4th Saturdays of the month will be observed as Holidays. All other Saturdays will be full working days.
Muslim festivals which are dependent on the sighting of the moon will be declared as Holidays by the Competent Authority for a date on which the festival would be actually observed in lieu of the date originally notified as Holidays for the festival.
'W' indicates in the PDF is Women employees only and 'K' indicates Kodagu District only.
UCO BANK HOLIDAY 2021 PDF DOWNLOAD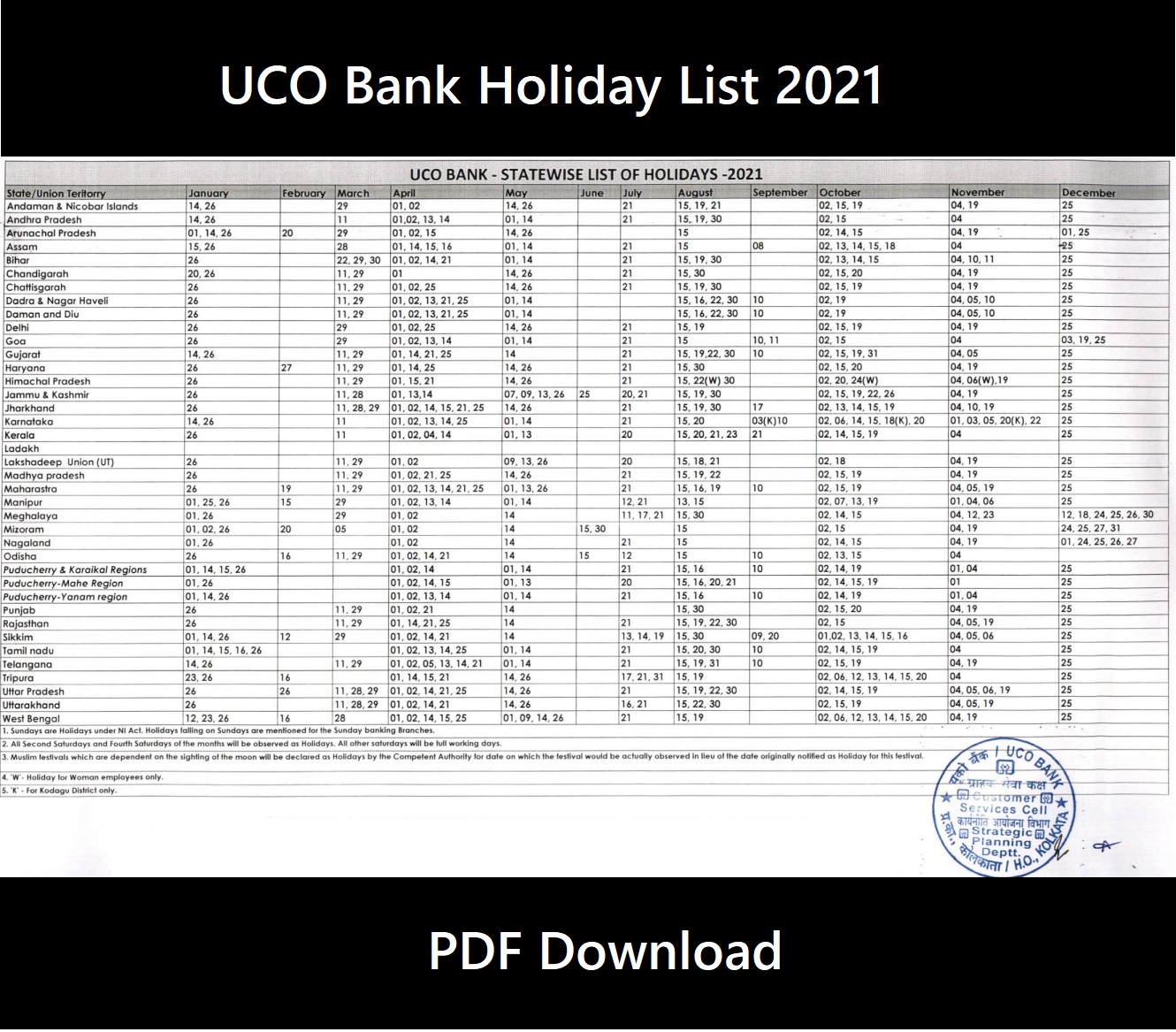 The bank code, branches, and holiday details of UCO Bank.
Bank Name: UCO Bank
Total Branches: 3069
Bank Code: UCBA
What is the Bank code for UCO Bank?
The UCO Bank code is UCBA.
How many branches of UCO Bank?
The UCO Bank has 3069 branches.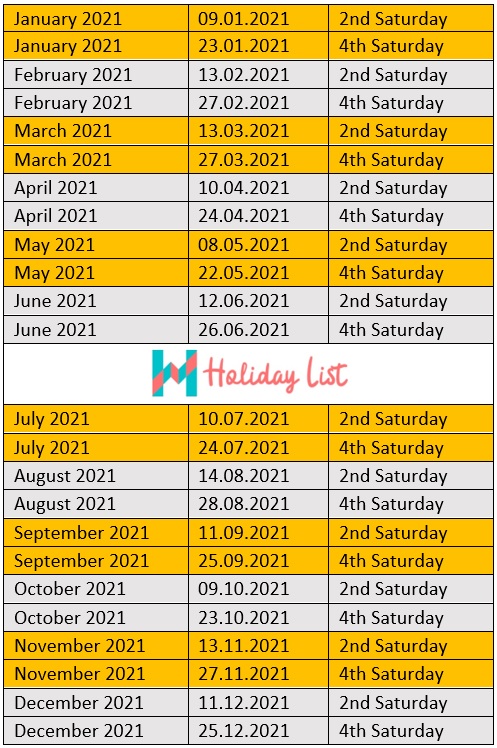 General Bank Holiday List in India 2021
Bank Holidays in January 2021
1 January 2021 (Friday) – New Year's Day
13 January 2021 (Wednesday) – Lohri
14 January 2021 (Thursday) – Makar Sankranti / Magha Bihu / Pongal:
20 January 2021 (Wednesday) – Guru Gobind Singh's Birthday
26 January 2021 – Republic Day (Tuesday)
Bank Holidays in February 2021
16 February 2021 (Tuesday) – Basant Panchami / Sri Panchami
19 February 2021 (Friday) – Shivaji Jayanti
26 February 2021 (Friday) – Hazarat Ali's Birthday
27 February 2021 (Saturday) – Guru Ravi Das's Birthday
Bank Holidays in March 2021
8 March 2021 (Monday) – Swami Dayananda Saraswati Jayanti
11 March 2021 (Thursday) – Maha Shivaratri
28 March 2021 (Sunday) – Holika Dahan/ Dolyatra
29 March 2021- Holi (Monday)
Bank Holidays in April 2021
2 April 2021- Good Friday (Friday)
4 April 2021 (Sunday) – Easter Sunday
13 April 2021 (Tuesday) – Chaitra Sukladi / Gudi Padava/ Ugadi / Cheti Chand / Vaishaki / Vishu
14 April 2021 (Wednesday) – Mesadi / Tamil New Year's Day
15 April 2021 (Thursday) – Vaisakhadi (Bengal) / Bahag Bihu (Assam)
21 April 2021- Ram Navami (Wednesday)
25 April 2021- Mahavir Jayanti (Sunday)
Bank Holidays in May 2021
7 May 2021 (Friday) – Jamat Ul-Vida
9 May 2021 (Sunday) – Guru Rabindranath's Birthday
14 May 2021- Id-ul-Fitr (Friday)
26 May 2021- Budha Purnima- Wednesday)
Bank Holidays in July 2021
12 July 2021 (Monday) – Rath Yatra
21 July 2021- Id-ul-Zuha (Bakrid) (Wednesday)
Holidays in August 2021
15 August 2021- Independence Day (Sunday)
16 August 2021 (Monday) – Parsi New Year's Day/ Nauraj
19 August 2021- Muharram (Thursday)
21 August 2021 (Saturday) – Onam or Thiru Onam Day
22 August 2021 (Sunday) – Raksha Bandhan
30 August 2021 (Monday) – Janmashtami (Smarta)
30 August 2021- Janmashtami (Monday)
Bank Holidays in September 2021
10 September 2021 (Friday) – Vinayaka Chaturthi/ Ganesh Chaturthi
Bank Holidays in October 2021
02 October 2021- Mahatma Gandhi's Birthday (Saturday)
12 October 2021 (Tuesday) – Dussehra (Saptami)
13 October 2021 (Wednesday) – Dussehra (Maha Ashtami)
14 October 2021 (Thursday) – Dussehra (Maha Navami)
15 October 2021- Dussehra (Friday)
19 October 2021 Milad-un-Nabi or Id-e-Milad [Birthday of Prophet Mohammad) (Tuesday)
20 October 2021 (Wednesday) – Maharishi Valmiki's Birthday
24 October 2021 (Sunday) – Karaka Chaturthi (Karwa Chouth)
Bank Holidays in November 2021
3 November 2021 (Wednesday) – Naraka Chaturdasi
04 November 2021- Diwali (Deepavali) (Thursday)
5 November 2021 (Friday) – Govardhan Puja
6 November 2021 (Saturday) – Bhai Duj
10 November 2021 (Wednesday) – Pratihar Shashthi or Surya Shashthi (Chhath Puja)
19 November 2021- Guru Nanak's Birthday (Friday)
24 November 2021 (Wednesday) – Guru Teg Bahadur's Martyrdom Day
Bank Holidays in December 2021
24 December 2021 (Friday) – Christmas Eve
25 December 2021- Christmas Day (Saturday)
Check Other State Holiday List for UCO Bank 2021
UCO Bank Holiday List 2021 in Karnataka
UCO Bank Holiday List 2021 in West Bengal
UCO Bank Holiday List 2021 in Jharkhand
UCO Bank Holiday List 2021 in Rajasthan
UCO Bank Holiday List 2021 in in Odisha
UCO Bank Holiday List 2021 in Bihar
UCO Bank Holiday List 2021 in UP
UCO Bank Holiday List 2021 in Haryana
UCO Bank Holiday List 2021 in Punjab
UCO Bank Holiday List 2021 in Tamil Nadu
Second and Fourth Saturdays of Every Month in 2021
Bank Holiday Saturday in January 2021
09.01.2021
2nd Saturday
23.01.2021
4th Saturday
Bank Holiday Saturday in February 2021
13.02.2021
2nd Saturday
27.02.2021
4th Saturday
Bank Holiday Saturday in March 2021
13.03.2021
2nd Saturday
27.03.2021
4th Saturday
Bank Holiday Saturday in April 2021
10.04.2021
2nd Saturday
24.04.2021
4th Saturday
Bank Holiday Saturday in May 2021
08.05.2021
2nd Saturday
22.05.2021
4th Saturday
Bank Holiday Saturday in June 2021
12.06.2021
2nd Saturday
26.06.2021
4th Saturday
Bank Holiday Saturday in July 2021
10.07.2021
2nd Saturday
24.07.2021
4th Saturday
Bank Holiday Saturday in August 2021
14.08.2021
2nd Saturday
28.08.2021
4th Saturday
Bank Holiday Saturday in September 2021
11.09.2021
2nd Saturday
25.09.2021
4th Saturday
Bank Holiday Saturday in October 2021
09.10.2021
2nd Saturday
23.10.2021
4th Saturday
Bank Holiday Saturday in November 2021
13.11.2021
2nd Saturday
27.11.2021
4th Saturday
Bank Holiday Saturday in December 2021
11.12.2021
2nd Saturday
25.12.2021
4th Saturday